Archive for the 'pop culture' Category
With today's technology, anything is possible.  Inventors use their imagination to create mind-blowing effects to capture a moment of power.  Check out how Taiwan design house JL Design and KORB converted Human Movement into digital sculptures.
These visuals take a dancer's movement and translate the motions into objects that resemble steel, wood, and water.  Captivating mesmerizing twists, turns, and shapes, the elements take on a mind of themselves and rapidly progress through the entire frame.  The trail of the dance in real materials shows a visual aspect of time.
http://www.vimeo.com/69948148
Check out KORB's latest project entitled O2 Refresh.  A metallic substance changes appearances, shapes and looks to create a dynamic and cohesive cinematic story.
http://www.vimeo.com/67195410
This 7-part series on Ovation explores the journey of making it in the dance world.  "A Chance To Dance" comes from the producers of So You Think You Can Dance and features two acclaimed British choreographers, Michael Nunn and Billy Trevitt who search the country to find America's best dancers. In just 28 days scores of dancers go through an exhausting boot camp and rigorous cuts in order to get into a new dance company that will tour with "So You Think Can Dance".
A more artsy version of So You Think You Can Dance, the show aims to investigate the competition,  preparation, and anguishing decisions that go into forming a dance company. Trevitt and Nunn bring their own styles, personality, and connections to the world of dance to shepherd the next generation of dancers. Set in the bucolic setting of Jacob's Pillow, the process these dancers go through is well known to many of us in the dance world. It is refreshing to see what goes on "behind the scenes" portrayed on television in a realistic and unflinching way. While reality television has helped revive dance in popular culture, it has done little to accurately portray what life as a dancer is really like. "A Chance to Dance" does just this in a way that is heartfelt, compassionate and ultimately reverential to the art form.
A Chance to Dance will premiere on Friday Aug 17th on the Ovation Channel.
Click here to watch more clips from A Chance to Dance!
On Sunday May 6th 2012, a crowd of 100+ people came out to The Wild Project in the East Village for a screening and dance extravaganza by the Girl Walk//All Day community.
Opening the show was a performance by the flex group Street's Finest with a guest appearance by Anne Marsen (star of Girl Walk//All Day). Sporting new pink hair, Anne danced fiercely along side the six guys in the group, who popped, locked, and dropped it as soon as they walked onto the stage. In black preppy outfits with red sneakers, they danced to some of today's hottest songs including Ellie Goulding, Starry Eyed. In between each song mix, a comedic voice would transition into the next song keeping the audience members on their toes. Throughout the performance were movements of slow motion, acrobatics, tutting, and freestyle clumps. One particular moment that stood out was when one male dancer supported all of his weight from his arms while being on top of another partner's back. The audience embraced the high energy of this group with their comedic styles and facial gestures. At the end everyone got to their feet to applaud. Who knows maybe we will see them on America's Best Dance Crew?! Read the rest of this entry »
"The MerryMakers Makes Movies" will explore the ways that nostalgia and image influence the contemporary artist while at the same time morph into something new. The program will include footage from their show along with clips of influential film images and discussion of their experiences shooting throughout NYC, wearing clown make-up in the dead of winter.  Ah!
Come to laugh and be inspired, and leave tapping your toes!
36 Ditmars Street
Brooklyn, NY 11221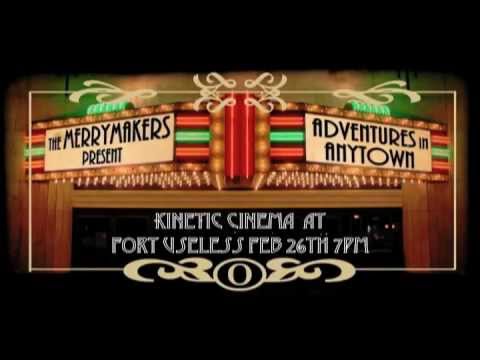 How media sharing is changing the value proposition of street dance
Since its inception, street dance has benefited from it's organic connection to hip hop music and urban culture. Arising in the 1970's out of disco, funk, and the black and latino urban cultures in America's inner cities, hip hop culture encompasses all the art forms including music, visual art, dance, and poetry, as well as fashion and design. As hip hop has spread from the underground to the mainstream culture, it has gained a foothold in large entertainment and media industries as well. The Sugar Hill Gang and Run DMC became some of the first Billboard topping hip hop music groups, sparking megastars like Michael Jackson and Blondie to embrace and emulate this new vibrant street culture in their music and videos. Along with hip hop's rise in popularity, street dance forms such as break dancing (or bboying) became well known and dance crews arose on every street corner and club where hip hop music spread.
Still to this day, street dance styles develop in tandem with new strains of hip hop, electronic and club music. The two disciplines of dance and music virtually exist to support each other. Club music is made to get people dancing, and the dance styles form around the different rhythms and vibes of the music. Since the decline of hip hop music sales, simultaneous with the rise of video's popularity online, the power dynamic of the two art forms are shifting. Previously the hip hop music industry was the giant, and hip hop dance played a supporting role in music videos and stage shows. Now however, hip hop dance seems to be moving ahead through its popularity with viral video hits. Today dance videos are becoming important ways for music tracks to get noticed, rather than the other way around.
Marquese Scott, aka Nonstop, is a streetdancer from Inglewood, CA. He started dancing in high school after jumping in a dance circle at a local skating rink and getting "maxed" (laughed at and humiliated in front of his friends), which spurred him on to practice and win other dance battles. Today he is part of the Atlanta-based dance crew RemoteControl and his specialty is "animation", a robotic style of motion that comes out of poplocking and autobot dance styles.
After a special appearance on So You Think You Can Dance with Remote Control, Nonstop began posting solo videos on YouTube that garnered a great deal of attention. His biggest hit was a solo performed to Butch Clancy's dubstep remix of "Pumped Up Kicks" by Foster the People. Seen over 24 million times, Nonstop's simple video was done in a single take from a camera he left on a tripod. What follows is a mindblowing display of movement that seems to defy gravity, time, and any other human constraints. The video was immediately picked up by bloggers and major media outlets who fueled its viral fire. While Foster the People's single was already a break away hit, Nonstop's video elevated the dubstep remix version to chart topping levels as well.
Since his YouTube success, Nonstop has become a sought after dancer for commercials, music videos, and live appearances. His story reveals an alternate path to a career in dance that is becoming more common in the era of online video. As streetdancers continue to post viral video hits online, videodance is poised to become a major pop culture phenomenon, akin to music video on MTV thirty years ago. Dance and music will still be inexorably intertwined, but this time, the dancers will get credit and esteem as well.