Posts Tagged 'dance film'
This week's webdance features Scott Matthew's cover of Whitney Houston's "I Wanna Dance With Somebody," one of the many songs Matthew produced for Alan Brown's new film, Five Dances (about to released theatrically nationwide).  The award-winning Matthew has taken this quintessential 80's pop song and turned it into his own.
Brandon Cournay's choreography shows the vulnerability and rawness of the dancers' experience in rehearsal.  Cournay is currently a dance member of Keigwin and Company and all of the dancers are working professionals in New York and LA, including Gary Schaufeld, Jakob Karr, Denise Miller, and Matthew Baker to name a few.  Each dancer brings their own personality and style to this rendition. With effortless partner work and intense physical connections, Cournay, Brown, and Matthew bring us a refreshing glimpse into the dancer's life.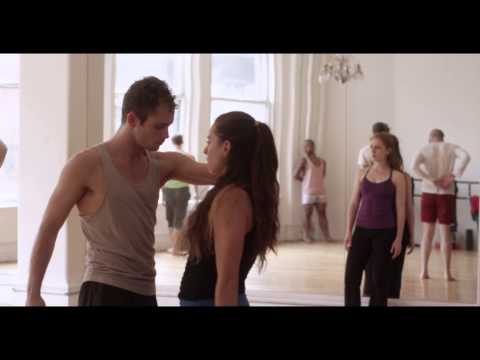 Click here to check out a trailer for Alan Brown's film, Five Dances!
This week's webdance showcases Duncan McDowall, a writer and director originally from Canada.  Starting off in the factual filmmaking business, McDowall worked on shows such as Discovery Channel's How it's Made.  Transitioning into a more narrative fiction category, McDowall began creating works that demonstrated art and its existence.  Upon creating Painted, McDowall won the Best Dance Film at the 2012 Fastnet Short Film Festival and was also nominated for Best of Festival and Best Original Music.
In McDowall's short film Painted, a female dancer explores the walls of a building as it decays.  With the choreography and music score, both embody the building's retreat from the surrounding physical world.  With the entrance of the dancer, distressed surreal images of the building are projected across the screen.  As the black bird comes into frame, the audience can then identify the dancer as a creature of nature.  Showing the toll of nature on the building, the dancer progresses across the cement floor until her final steps of life.
http://www.vimeo.com/48077336
In 2010, Duncan also won the 12th edition of the COURS ÉCRIRE TON COURT annual scriptwriting competition for his short film script, The Horse Latitudes.
Taste of the Catskills Festival 2013
New Video Installations and Performance by Pooh Kaye
October 12 and 13, 2013
TICKETS: 8 Adults, $5 Children, children under 5 yrs. free
Top floor of the Barn at Maple Shade Farm
2066 County Highway 18, Delhi, NY, 13753
October 12, 2013 will mark the start of the Taste of the Catskills Festival. This two-day event is filled with food, workshops, activities, and even more.  This year the festival will also host the New Video Installations and Performance by Pooh Kaye at the Maple Shade Farm.  Pooh Kaye, an award-winning artist and choreographer will premiere her new video installations entitled, Yachta Yadda.  This single frame video installation challenges a yacht ride with machines, a ladder, and the earth to generate a backyard pond with destructive results.
Along with her award-winning stop-motion films, Pooh Kaye has seen her work in the Metropolitan Museum, Lincoln Center, and the Whitney Museum of American Art to name a few.
(Note:  Expect to see video hidden within farm equipment, layered projections and ambulatory objects!)
This week's webdance features Ryan J. Woodward's Thought of You. Ryan Woodward, a renowned and successful animator has worked on countless projects and films such as Spider-man 2 & 3, The Avengers, and many more.  In this animated story Thought of You, Ryan explores the idea of life continuing forward while the world spins madly on.
http://www.vimeo.com/14803194
Check out the making of Thought of You below!
http://www.vimeo.com/21096567
This week's webdance showcases Neue Films, a group of filmmakers and graphic designers based in New York City. This music video, "Fire to the Ground" by The Forms, features a Busby Berkeley-esque moving crane shot of dancers gesturing explosions, fire, and gun shooting while dressed in vibrant red costumes.
http://www.vimeo.com/26331552